Water Closet for October 17, 2014
The full moon on October 7th had high tides almost two feet higher and lower then monthly averages the following day.  A couple old Closeteers, perhaps also pulled by the Sun, Earth, and Moon in line, drove northeast in the direction of the nearby Ipswich River's flow to a marvelous place where its fresh water joins the sea.  The late afternoon air was clear and warm beneath interesting cumulus clouds.
The men's purpose, they usually claim, is to visit the clam flats to get clams.  This time they said they were going for large sea clams* on the exposed lower beach and sand bars.  Friends over the years would listen politely to their excuses and smile; they knew that clams and ownership of Ipswich clamming licenses were secondary reasons for their visits to this place where sea and upland waters mix and twice daily rise and fall revealing new scenes at every level.  Most visitors are more honest, they know reasons for their visits to beaches are not needed.  Worldwide, people love the shores where the mobile water of the oceans embraces the immobile land of continents.  At Yankee shores, with large tides, the meetings are up and down and in and out for quite a distance on gently sloping shores called estuaries.  Not only do people flock to them but also birds, fish and a host of organisms largely unseen.  These shallow places of great beauty and rich habitat were to sailors of yore often lee shores of great danger.  There folks have beauty and at times excitement, what greater magnets are there?  Tasty clams are but frosting on the cake and an excuse to visit except for commercial clammers.
No danger was anticipated or encountered by the visiting "mess diggers", as non-commercial clammers are called, on that warm day of light breezes.  At the entrance to the vast almost empty parking lot at Crane Beach the rangers told them the gate would be closed at sunset, 6:15 PM, so they would have to park outside beside the road where no parking is allowed.  A few surf fishermen's cars were already there.  To the octogenarians this meant an extra mile of hiking with gear and returning with heavy sea clams across the sand.  How generous and welcoming the Trustees of Reservations and the Town of Ipswich are to out of towners.  In a friendly manner they were further told that the Ipswich Police sometimes ticketed cars outside the gate.  The parking rates even after swimming season within the reservation are high, further excluding access to the ocean's edge for many.  Welcome to beautiful Ipswich by the sea; such places should belong to all.  Later after whining about this to a happy beach hiker encountered, she said. "That is why it is so nice."  The Trustees of Reservations is a crackerjack caretaker, but does it need to be so exclusive?
Their grievances were temporarily forgotten as the clammers took the fine wooden stairs and walkway over the dune above the beach.  On the summit the good feeling was even better than entry into Fenway Park on a beautiful warm night.  Ipswich Bay was not limited by green walls, signs, and bleachers.  The wide low tide beach sloped gently to the calm blue sea.  To the west, Castle Hill and the Ipswich Necks rose green above broad Plum Island Sound.  Barrier beach Plum Island, north across the channel and waves breaking on the intertwining entrance bars, swept up the coast and disappeared into New Hampshire. To the east rocky Cape Ann beyond Essex and Wingaersheek Beach tumbled abruptly to the sea's horizon.  Out before them on the sand were three striped bass fishermen, a dozen children on horses, and a half dozen separate walkers all sharing two miles of beach  beneath a range of high dunes to the south stabilized by dune grass, pitch pines, beach plums, and other plants adapted to shifting sands, now protected, no longer pasture.  Soon, 20 feet lower than the dune crossed, they were out on the very edge of America and the Atlantic Ocean wading in and out of very small breaking waves, looking for sedentary prey, sea clams.  With dung fork and pitch fork designed for different work they literally poked their way along feeling for a tell-tale clunk.  Their wandering eyes were not focused; the scene was far too large. 
The beautiful evening turned out to be a clunker for clamming, probably better called a "non-clunker".  Only two clams in an hour long window of access were touched and taken.  They did run into an interesting bare legged walker-wader who asked questions about what they were doing. She became greatly interested on hearing of clams.  The not yet middle aged lady was asked by one clammer if she was Japanese.  She answered yes.  He said his wife was Japanese. "Kon-ni-chi-wa" (good evening) back and forth was followed by a chat about clams in non-accented English.  Anxious to find clams, she, thigh deep, waded away eyes down searching.   Later as the sun went down the clammers spotted her quarter mile away still wading east towards Essex, well out beyond what our low boots would allow, still looking down into the clear cold water.  One wondered if she was kin to ama.  An ama is a Japanese woman who dives for seafood. Women are the divers in this ancient trade because of their thicker layers of subcutaneous fat.  These hardy souls are much admired in Japan.  The old clammers had lots of time for such odd thoughts because their tines weren't hitting clams.  Sometimes on past trips they had found a few exposed on the surface, most found are several inches below but easily pulled up from the soft wet sand by hand or fork.  The evening only yielded two clams and two edible moon snails, enough for a meal for two people. On a previous trip to the same place several years before with their clamming mentor, the late Joe Elston, then 85, they had found 80 or so, each weighing about a pound.  On that long trek back pulling a cart through the sand they silently wished they hadn't been so lucky.  Joe clammed right up until the year he died at 89.
At six o-clock on schedule the tide turned and on the very gentle slope started to retake the bar the clammers were far out on.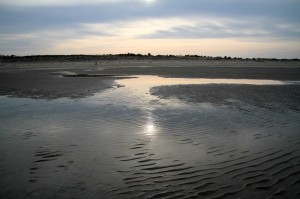 They turned west from whence they came to view a show of soft reds projected by the setting sun on puffy clouds above Castle Hill.  The lack of clams and boot clad feet now dragging some in sand were forgotten.  The sunset was not dazzling just perfectly suited to end a perfect day.  After a half-mile of leisurely stops and starts on interesting surf carved ups and downs, rivulets in lovely sand twice daily scrubbed and rinsed, the clammers approached the fishermen casting for striped bass.  One rugged young fellow looking east called to a friend. "Look at the sun just coming up."  The friend good naturedly responded. "That's the moon."  The clammers turned and there just out from barely seen Halibut Point, Cape Anne, a perfect red arc, just a sliver, peeped above the horizon.  This for the clammers was the day's "cup running over".   Complaining legs forgotten, they slowly climbed the Trustees' good stairs over the dune and then crossed the empty parking lot, now dark, to beyond the gate and an unticketed car.   A group of young adults were happily gathering near the gate.  They were going where the old timers had been to greet the full moon shining on the sea.
* Atlantic Surf Clam or Sea Clam  Spisula solidissima
__________________________________________________________________________
WATER RESOURCE AND CONSERVATION INFORMATION
FOR MIDDLETON, BOXFORD AND TOPSFIELD
Precipitation Data* for Month of:
July
Aug
Sept
Oct
30 Year Normal (1981 – 2010) Inches
3.89
3.37
3.77
4.40
 2013 – 14 Central Watershed Actual
7.26
2.20
2.58
1.7 as of 10/14**
Ipswich R. Flow Rate(S. Middleton USGS Gage) in Cubic Feet/ Second (CFS):
For Oct. 14, 2014   Normal . . . 11 CFS                       Current Rate  . . . Unavailable
*Danvers Water Filtration Plant, Lake Street, Middleton is the source for actual precipitation data thru Sept.
**Middleton Stream Team is source of actual precipitation data for Oct.
Normalsdata is from the National Climatic Data Center.
THE WATER CLOSET is provided by the Middleton Stream Team: www.middletonstreamteam.org or <MSTMiddletonMA@gmail.com> or (978) 777-4584