TRAGERT COMMON LANDMARK TRAIL
This project was funded in part by a grant from the Essex National Heritage Commission and the Middleton Stream Team
[Insert history behind the creation of the Tragert Common Landmark Trail here]
1 Discover Middleton
We invite you to enjoy a leisurely walk along this mile-long trail to observe, study and explore. Watch for interpretive signs as you go – they will explain different historical landmarks and natural features along the way. Please exercise caution when traveling on the portions of the trail that are located on roadways.
All pets must be on a leash and under control. Leave no litter behind and pick up after your pet.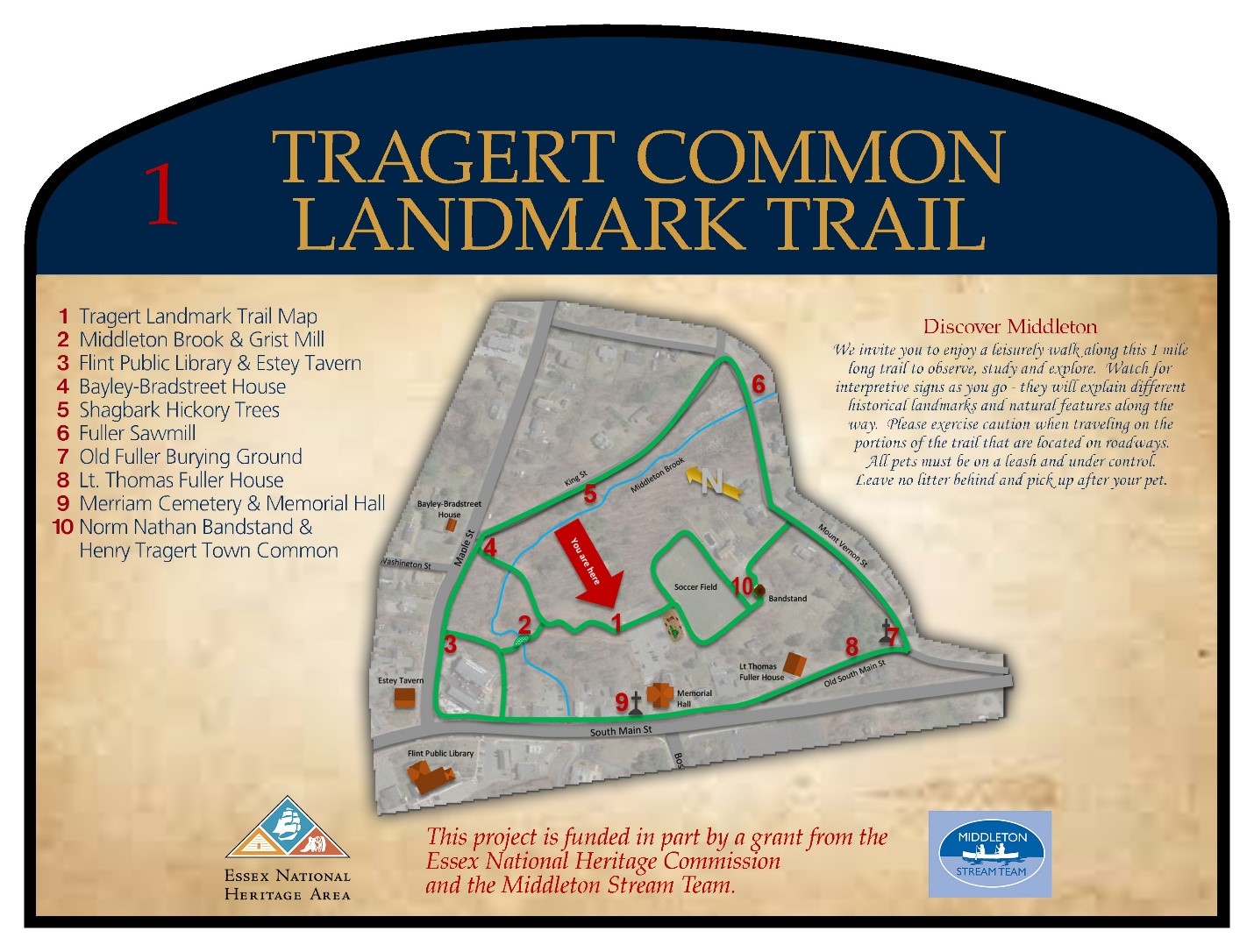 2
Middleton Brook
Middleton Brook's watershed receives water from North Reading and much of western and central Middleton. Middleton Pond, a mile-long Danvers Water Department reservoir, is dammed on Lake Street. The overflow from the dam goes into Middleton Brook, under South Main Street, and down through central Middleton to the Ipswich River behind Richardson Farms. From the late 17th through the 18th centuries the brook was an important source of water power for the Silas Merriam grist mill and the Fuller sawmill.
Grist and Saw Mill
Agriculture characterized most aspects of Middleton's economic base throughout the Colonial period up until the Civil War. Grains remained the main focus of most agricultural production with corn as the chief crop. Middleton Brook was used to mill corn by John Estey east of South Main Street just below the square until 1720. This mill was rebuilt around 1735 when Estey's son, Jonathan, sold his shares of land and the old mill to Isaac Wilkins. In 1770 the mill was transferred to Dr. Silas Merriam whose mill sawed lumber and ground grain. The Merriam family cemetery is just south of here on South Main Street.
3
Flint Public Library
The Flint Public Library is located directly west of the junction of Maple Street and South Main Street. This handsome building was built in 1891 in the Romanesque style with a $10,000 bequest from the estate of Charles L. Flint. The tower houses a Howard clock and the stained glass windows were designed by Glasgow-born artist Donald MacDonald. The library received
its National Register of Historic Places designation in 2002. A large addition that blends well with the original building was finished in 2008.
Estey Tavern
Located directly north of the junction of Maple and South Main Street, Estey Tavern, formerly known as the "Black Horse Inn", was built in 1753 by Samuel Bradford as a stopover spot for travelers mid-way between prosperous Andover on the Merrimack River and the world-renowned seaport of Salem. These travelers included drovers who pastured their sheep and cows in nearby pastures. The eastern ell, or backhouse as they were sometimes called, of the Tavern encapsulates elements of a 17th century building, including the chimney and some beams. The inn was listed on the National Register of Historic Places in 1989.
4 Bayley-Bradstreet House
Across the street, on the corner of Maple and Washington Streets, is a home built in 1714 by husbandman Thomas Bayley and wife Mary (Estes) Bayley and subsequently owned by Dr. Joseph & Abigail (Fuller) Bradstreet. It is a single pile 1 ½ story gambrel roof home with an attached kitchen ell. It served as a model for the Watkins Museum located on Pleasant Street behind the Flint Public Library.
5 Shagbark Hickory Trees
Carya ovata, the shagbark hickory tree, is common in the Eastern United States and southeast Canada. It is a large deciduous tree, which can grow over 100 ft. tall and can live more than 350 years. Mature shagbark hickory trees are easy to recognize because, as their name implies, they have shaggy bark reminiscent of shingles. This characteristic is only found on mature trees as young specimens have smooth bark. As one travels southeast along King Street, several mature shagbark hickory specimens line the road. Its strong, shock resistant wood is valuable for tool handles and many other uses. The nuts were a popular food for the Native Americans and colonial English.
6 Fuller Saw Mill
Although difficult to see through the trees along Mount Vernon Street, the Thomas Fuller sawmill was located roughly 200 feet southeast from where Middleton Brook crosses Mount Vernon Street. The remains are located on private property.* The sawmill was built in the 1690s and was no longer in use by about 1710. This mill was rebuilt by Fuller's grandson Timothy Fuller in 1756 and remained in operation until at least 1771. The remains of its large dam can be clearly seen a couple hundred yards downstream from Mount Vernon Street.
* Sawmill foundation remains are located on private property that is not open to the public
7 Old Fuller Burying Ground
This burial ground contains the remains of both the Fuller and Wilkins families, some of the first families to settle in early Middleton. Middleton was part of Salem until 1728. The oldest marker here is for Mrs. Elizabeth Perkins, wife of John, who died March 26, 1738. The next oldest gravestone is that of Rev. Andrew Peters, a Harvard graduate ordained in November 1729 and who served as Middleton's first minister.
8 Lt. Thomas Fuller House
The Lt. Thomas Fuller House is a historic First Period house located at 6 Old South Main Street. The oldest portion of the house includes the two stories of rooms located on either side of a central chimney and was built c. 1684 by Thomas Fuller. By 1690 a lean-to section, which has surviving elements still in the house today, was added. The lean-to was raised to a full second story in the 19th century. This is Middleton's oldest surviving house and was listed on the National Register of Historic Places in 1990.
9
Memorial Hall
The building at 48 South Main Street was built in 1806 as the Centre School. Currently the building houses town offices and is called "Memorial Hall" in honor of all veterans.
Merriam Cemetery
Established in 1803, this cemetery lies between what was the old Centre School and the former site of the Methodist Church. The church became a private dwelling and was moved up the street toward the town center and the school became the Memorial Town Hall. Dr. Silas Merriam and his family are interred here. He was a physician who came to the town from Concord and became one of the town's leaders. He purchased the Wilkins grist mill in 1770 and ran a store connected with it where he sold groceries and grain.
10
Norm Nathan Bandstand
The Norm Nathan Bandstand was built in 2001 as a gift to the town from the Kiwanis Club. The structure is the town's first bandstand and has been used quite extensively since built. Mr. Nathan was a very active part of Middleton for many years, serving as a town moderator and school committee member, as well as being a dedicated Kiwanian. He is also remembered as a disc jockey, talk show host and jazz connoisseur and was one of Boston's best known and most beloved broadcast personalities until his death in 1996.
Henry Tragert Town Common
Henry Tragert and his wife Mary settled with their seven children in Middleton in 1970, where for a half century the family served their new town well. Henry served for fifteen years at town meetings as a fair and decisive town moderator. For six years he sat on the Board of Selectman, two as chairman. The planning board, zoning board of appeals, conservation commission, and several other town committees profited from his presence. For fifteen years he led the Middleton Historical Society as president. This Town Common and its historical trail are appropriately named in his honor.