June 19th was an exciting day for residents of the Ipswich River Watershed. The Ipswich River Watershed Association hosted its annual Paddle-a-Thon celebration at the Topsfield Fairgrounds. Volunteers from the IRWA spent a few hours before the event setting up the tent, tables, chairs, and more! Having local businesses like Sol Bean provide refreshments was great.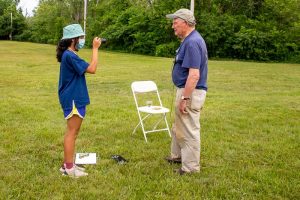 Members of the Stream Team group were among 130 people who helped raise awareness for the Ipswich River. Our team raised over $1,500, putting us in the top 5 teams to raise the most funds. Connecting with other groups during the event gave hope; there are so many people of all ages dedicated to protecting the Ipswich River. During the celebration, many members were asked for video interviews, so look out for a video on the Paddle-a-Thon coming soon from IRWA! We look forward to having our passion and excitement for the river and the species that call it home shared.
Supporting the Ipswich River and organizations like the Stream Team and IRWA is incredibly important to maintaining the river's health. Right now, the Ipswich River is #8 on the list of endangered rivers in the entire United States. Not just Massachusetts, but the United States as a whole! To make sure our river is protected, we ask you to be an advocate for better water restrictions during droughts and the idea of water for people, not lawns. As a community, we have the power to make long-lasting, positive change in our community and beyond by protecting our river. If you would like to make a donation on the Middleton Stream Team's behalf, please visit the link here and choose "Middleton Stream Team" for the first question.