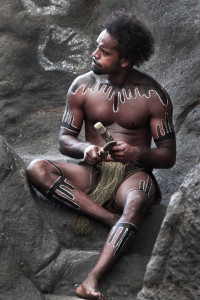 A descendant of Australian leavers,
the people there before the takers came.
Internet photo
CIVILIZATION AND DIRTY WATER
     Sometimes Stream Teamers and Closeteers feel they shouldn't read. This is tough in our culture where we've been encouraged by parents and teachers to read since babyhood.  Last week Stream Teamer Francis Masse shared his bimonthly newspaper "The Working Waterfront" from the coast of Down East Maine.1  One old Closeteer wishes now he hadn't seen it.  Rob Snyder, owner and publisher of the paper, tells of recently playing with his five and nine year old children in brand new snow.  His daughter caught him eating snow from his glove as we've all done forever.  She yelled, "Stop."  "Why?" said Dad,  "its fun."  She responded in no uncertain terms.  "Because, Dad, the snow is sifting pollution out of the air."  She and friends had been taught this in school.
     Maine is the "nation's tail pipe" says Snyder in his Field Notes piece entitled "The dark secrets in the snow and sea."  His metaphor is apt. Each day the TV weather maps show our air coming from the south and west after passing over the country's densest population centers and industrial belts bringing their exhausts.  Snyder was brought up in Cleveland where the grossly polluted Cuyahoga River famously caught fire in 1969.  He didn't see it, but it was a vivid part of his childhood lore.  Here we are whining about reading and then laying these grim stories on you.  Sorry, but as environmentalists we must.  Heads kept hidden in polluted sand won't solve Snyder's and all other children's environmental problems.  Of course, we, long well aware of them, haven't solved many.  It's up to his daughter's generation to emphatically yell "stop!"  Our generation passes on soiled batons to hers.  We weep because she won't taste the snow with us.
This month along with "The Working Waterfront," the Water Closet received a very strange book entitled Ishmael  by Daniel Quinn2.  It is a two hundred plus page dialogue between a brilliant gorilla educated by his human captors, and a young writer, his pupil.  The two can communicate freely without oral language.  They read each other's thoughts.  Please bear with us.  A couple Stream Teamers wouldn't when the old Closeteer reading the book laid this introduction on them.  He, like others who have read this once popular book, wasn't at all prepared at the start to read on, but the subject and presentation quickly drew him in and kept him there.
Ishmael, born and happily raised a gatherer before capture, had concluded that there are two basic kinds of human cultures in the history of the world made up of takers and leavers.  The takers are "civilized," the leavers are "primitive" in the words of us who are the takers.  The primitives leave other human groups and other species alone except for necessary food.  All humans were leavers/primitives up until the advent of agriculture about 10,000 years ago.  Agriculture led to increased populations and settlements which then led to wars.  The takers wiped out other species who threatened their crops; and even other humans when they needed more land.  This was the beginning of the loss in species diversity due to the new taker culture taking over.  According to Harvard's great biologist, Edward O. Wilson, diversity loss continues now at an alarming rate.3  Ishmael, cleverly using the Socratic method, convinces his pupil and readers that the loss of diversity which evolved on Earth for over three billion years cannot happen if life is to continue.  The raw material for adaptive evolution is diversity.  Ishmael calls this a law of nature as unforgiving as the Law of Gravity.  Primitives did not violate this law so did not have the loss of diversity problem.
Now comes the hard part.  Are all eight billion of us to become hunter gatherers?  The late Ishmael's answer was no, if humans can  break away from  their cultural myth of  world ownership and control to one where man recognizes himself as another species, a part of the whole.  The myth we takers have been hardwired with from early on is that life on earth evolved for us.  The few primitives left have no such notion according to Ishmael, a great student of anthropology.  His last words to his pupil were not without hope.  More and more wise people now recognize that we make "tail pipes" of habitats at our peril.  Snyder goes on in his piece about the increasing acidity and heat in our waters that scientists these past few decades have been warning us about.  Some researchers along his Maine coast are finding that clams are having trouble making shells in the more acid and warmer waters.  We've known for some time that trout are adversely affected by these changes.  How about all the other species in the oceans?  We "takers" are taking habitat away at an alarming rate.   Perhaps the most blatant examples we've reported on here in The Closet are of tar sands being torn from thousands of square miles in Alberta.  Our strip coal mines in West Virginia and Eastern Kentucky set an awful precedent.  Now our country is poised on helping with the Keystone pipeline, which will further increase the desecration.  Perhaps there is a lot more to Snyder's daughter's "STOP" than met his ear.  Ishmael, a wise leaver, understood.
1  Down East part of The Working Waterfront, February 15, 2014 issue, published  by The Island Institute.
2  Quinn, Daniel.  Ishmael (Bantam Turner Books, 1992)
3  Wilson, Edward O.  The Diverstiy of Life  (Harvard U. Press, 1992)
————————————————————————————————-
*Danvers Water Filtration Plant, Lake Street, Middleton is the source for actual precipitation data thru Jan. Normals data is from the National Climatic Data Center.
**Updated Feb precipitation data is from MST gage.
THE WATER CLOSET is provided by the Middleton Stream Team: www.middletonstreamteam.org or <MSTMiddletonMA@gmail.com> or (978) 777-4584
WATER RESOURCE AND CONSERVATION INFORMATION
FOR MIDDLETON, BOXFORD AND TOPSFIELD
Precipitation Data* for Month of:
Nov
Dec
Jan
Feb
30 Year Normal (1981 – 2010) Inches
4.55
4.12
3.40
3.25
 2013 – 14 Central Watershed Actual
3.35
5.30
3.47
2.60 as of 2/18**
Ipswich R. Flow Rate (S. Middleton USGS Gage) in Cubic Feet/ Second (CFS):
For Feb 18, 2014: Normal . . . 66 CFS           Current Rate . . . 57 CFS
—————————————————————————————————-
*Danvers Water Filtration Plant, Lake Street, Middleton is the source for actual precipitation data thru Jan. Normals data is from the National Climatic Data Center.
**Updated Feb precipitation data is from MST gage.
THE WATER CLOSET is provided by the Middleton Stream Team: www.middletonstreamteam.org or <MSTMiddletonMA@gmail.com> or (978) 777-4584