The Middleton Stream Team's Fall Hike included a few showers but the winds held off and everybody had a fun learning adventure.
The children were provided a list of things to look for, a moss covered rock as big as an elephant and a witch's broom high in a tree being two of them. The most fun was finding things that didn't belong.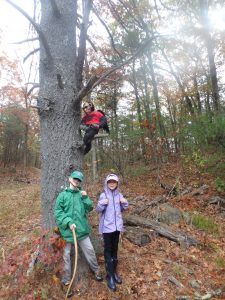 They found a pumpkin deep in the forest, an ear of corn on the side of a tree, a pink flamingo on the banks of the pond, and a flying monkey from the Wizard of Oz sitting up in a tree. The challenge that required some thinking was "what did you find that belongs here but not usually at this time of year?" The children found newly emerging skunk cabbage. Pike happened to have a thermometer so Sandy and Ashlyn stuck it down into a skunk cabbage and compared it to the surrounding mud and water temperatures. Indeed, it was several degrees higher than either! William Caulfield found dandelions in bloom in a field also! The rain let up, we continued our hike, and all deemed it a success. Time spent in nature is always restorative! And just plain fun for children!
SLIDESHOW
[metaslider id=4852]