Stream Teamers and supporters prepared and then cycled on the "Machine" in the Chief Wills Day parade in Middleton. The Stream Team was proud to participate and display this ergonomic wonder, all people powered vehicle which featured 10 people peddling and one person to steer and another to shift the gears from the 4 speed transmission. Machine was actually built on a volkswagen chassis (engine removed of course).
After a trial run all systems are GO!
The Machine joins the parade and all is going well…, but wait..,is the machine losing parts???
This little gem of a sprocket  was found on the parade route sometime later and  is the culprit for why the machine needed a bit of assistance from Leon's tractor (following) .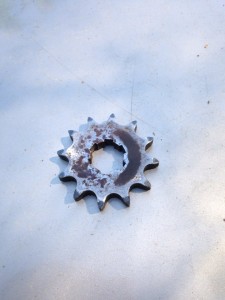 More photos below…